Style, sophistication and ultra-modern design, all at the same time are what you get at hotel brinjal. The place offers some of the finest facilities in Haridwar. You have a vast choice pool of 40 budget luxurious rooms and executive suites. The rooms give you mesmerizing "Jain Temple views" and captivating scenes of the mighty holy Ganga river. We are the ultimate choice when it comes to stay-points, be it for business or leisure purpose.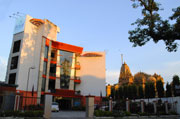 Description :
Hotel Brinjal in Haridwar provides a cocoon of classy comfort for visitors to the holy town. The deluxe hotel provides guests with an unforgettable stay experience, both in terms of luxury and comfort. It features state-of-the-art facilities for travelers. Visitors prefer the hotel for its impeccable bundle of services it delivers and the world-class facilities that it provides. Elegantly set guest rooms and suites are just what you need to enrich your holy travel. The hotel is second to none in any area . The dining menu is often the envy of its competitors. The dishes are prepared by highly experienced professionals thereby elevating your experience even more.
Accommodation :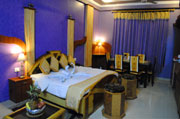 Beautifully decorated rooms and suites at Hotel Brinjal make for an excellent accommodation in the town of Haridwar. A set of 40 rooms are here to choose from to cater to the staying needs of visitors. The atmosphere at the hotel is all welcoming and the staff is both friendly and professional. They leave no stone unturned to attend to the needs of guests staying here. This traditional hospitality attracts tourists here time and again.
Location :
Situated at the Rishikesh - Haridwar highway, the Hotel Brinjal`s location increases its proximity to many noticeable landmarks of this famous holy city of India. Travelers can easily access the hotel through either mode of air or road. The convenient location includes its 2.5 Km distance from famous Har - Ki - Pauri, 25 km distance from Jolly Grant Airport and 4 Km distance from the Haridwar Railway Station.


Location of Religious Places

Religious Places

Distance from Hotel Brinjal

Har Ki Pauri
2.5 Km.
Mandir Mansa Devi
2.5 Km.
Mandir Chandi Devi
3.5 Km.
Mandir Mata Veshnio Devi
1 Km.
Mandir Bharat Mata
1 Km.
Shanti Kunj
200 Mtr.
Mandir Daksh Prajapat
6 Km.
Mandir Avdhoot Mandal
8 Km.